Last updated 02 January 2017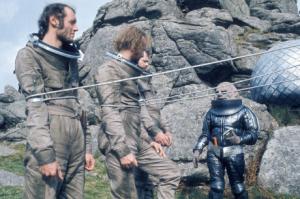 Broadcast: Friday 30th June 2000
5:00am-6:00am EDT
(09:00 GMT)
<
>
«
»
BBC America
(adverts during broadcast)
Featuring: Tom Baker, Ian Marter, Elisabeth Sladen, Kevin Lindsay
The Doctor, Harry and Sarah find Earth is a desolate wilderness. They meet a group of stranded human colonists who are being hunted by a robot and experimented upon by its master.
Synopsis Source: Doctor Who Guide
Broadcast Source: TWIDW
Report from the This Week in Doctor Who Archive:
Friday 23rd June 2000:
BBC America
http://www.bbcamerica.com/
Sat 6AM, Sun 8AM+5PM EDT East Feed (PDT West Feed) - 2 pts
The Robots of Death pts 3+4 of 4
Taran Capel reveals himself and orders the robots to kill all the remaining humans. A major tactical error, considering how effective the robots were when everyone trusted them.
Weekdays 5AM EDT East Feed (PDT West Feed) - 2 pts
Mon-Tue Robot pts 1 - 4 of 4
The newly-regenerated Doctor is called upon to investigate the theft of materials and plans needed to build a powerful weapon.
Wed-Thu The Ark In Space pts 1 - 4 of 4
The survivors of humanity sleep in space, waiting for a wakeup call that never came.
Fri The Sontaran Experiment pts 1 - 2 of 2
While humanity was sleeping, someone set up shop on Earth.