Last updated 02 January 2017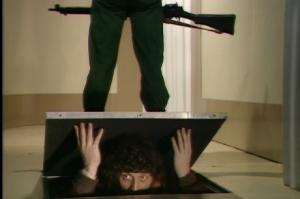 Broadcast: Saturday 22nd April 2000
6:00am-7:00am EDT
(10:00 GMT)
<
>
«
»
BBC America
(adverts during broadcast)
Featuring: Tom Baker, Ian Marter, Elisabeth Sladen, Peter Miles, Michael Wisher
The Doctor informs the Kaled government of Davros's experiments and they move to shut down the bunker. But Davros is one step ahead and prepares to take drastic action.
Synopsis Source: Doctor Who Guide
Broadcast Source: TWIDW
Report from the This Week in Doctor Who Archive:
Friday 21st April 2000:
BBC America
http://www.bbcamerica.com/
Genesis of the Daleks eps 3+4 of 6
Sat 6AM EDT Eastern Feed (PDT Pacific Feed)
No Sunday broadcasts this week. If you miss it early Saturday, you're out of luck. The Thals strike a deal with the devil, who's wearing the guise of Davros.