Last updated 02 January 2017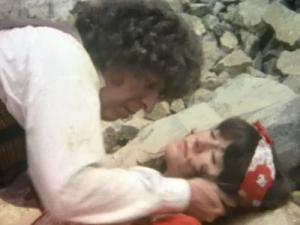 Broadcast: Sunday 28th November 1999
8:00am-9:00am EST
(13:00 GMT)
<
>
«
»
BBC America
(adverts during broadcast)
Featuring: Tom Baker, Elisabeth Sladen
The TARDIS returns to present day Earth, where Sarah is caught in a rock fall and becomes possessed by the fossilized stone hand of the alien Eldrad.
Synopsis Source: Doctor Who Guide
Broadcast Source: TWIDW
Report from the This Week in Doctor Who Archive:
Friday 26th November 1999:
BBC America
http://www.bbcamerica.com/
Sat 7AM+5PM, Sun 8AM EST The Hand Of Fear movie, pt 1 of 2
(Oops. Forgot to include this station last week.)
Sarah is buried in a quarry explosion. When she is found, she is clutching a crystalline hand that appears to be millions of years old, but is very much alive.