Last updated 02 January 2017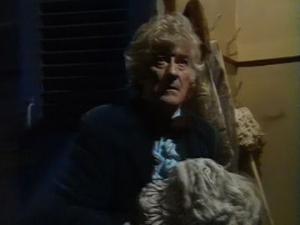 Broadcast: Sunday 28th November 1999
3:15pm-3:40pm EST
(20:15 GMT)
<
>
«
»
NHPTV
Featuring: Jon Pertwee, Nicholas Courtney, Elisabeth Sladen, Richard Franklin, Martin Jarvis, John Levene
Sarah awakens to discover that she is on a spaceship that left Earth months ago and is heading for a new world. The Doctor is framed for causing the return of the dinosaurs.
Synopsis Source: Doctor Who Guide
Broadcast Source: TWIDW
Report from the This Week in Doctor Who Archive:
Friday 26th November 1999:
NHPTV New Hampshire
11, 49, 52 http://nhptv.org/
Sun 2PM EST Invasion of the Dinosaurs all 6 eps
The 3rd Doctor and Sarah return to London to find it evacuated, populated just by soldiers and dinosaurs. The final story with all the famous UNIT regulars in it as UNIT regulars (Lethbridge- Stewart, Benton, and Yates). This version includes the Black & White episode 1, titled "Invasion". The episodes wasn't supposed to just exist in Black & White, but when you're careless with your property, things get lost. Next episodes air on December 19.