Last updated 02 January 2017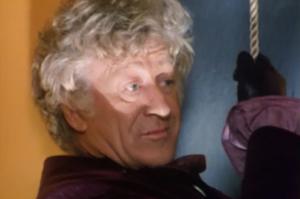 Broadcast: Sunday 3rd October 1999
3:25pm-3:50pm EDT
(19:25 GMT)
<
>
«
»
NHPTV
Featuring: Jon Pertwee, Katy Manning, Prentis Hancock, Bernard Horsfall
The Doctor and the Thals escape from the Dalek city and the Doctor is delighted to find Jo is alive. But the Daleks are preparing deadly bacteria to kill all life on the planet.
Synopsis Source: Doctor Who Guide
---
Broadcast notes:
Episode three was skipped.
Broadcast Source: TWIDW
Report from the This Week in Doctor Who Archive:
Friday 1st October 1999:
NHPTV New Hampshire
11, 49, 52
http://nhptv.org/
Sun 3PM EDT Planet of the Daleks eps 2+3 of 6
(It's the real episode 3, not episode 4 disguised as episode 3. Episode 3 is not part of the traditional US package of
Pertwee
stories.) The Daleks capture the Doctor and blow up the ship which Jo was resting in. Episode 3 only exists in Black & White at the moment. It is apparently the high budget episode, with a suspenseful escape scene and a balloon action scene, if I've read the novelization correctly.
» the next edition reported that, as it turned out, episode three wasn't shown after all, episode four was shown instead.