Last updated 02 January 2017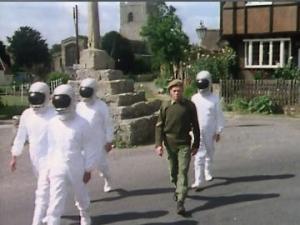 Broadcast: Sunday 2nd May 1999
8:00am-9:00am EDT
(12:00 GMT)
<
>
«
»
BBC America
(adverts during broadcast)
Featuring: Tom Baker, Elisabeth Sladen, Martin Friend, Milton Johns
The TARDIS apparently arrives back on Earth but all is not as it seems as the Doctor and Sarah are attacked by mysterious space suited figures and find that the 'dead' are walking.
Synopsis Source: Doctor Who Guide
Broadcast Source: TWIDW
Report from the This Week in Doctor Who Archive:
Friday 30th April 1999:
BBC America
http://www.bbcamerica.com/home.html
Saturday at 5PM EDT, Sunday at 8AM EDT The Android Invasion movie version, part 1 of 2
See the
KTEH listing
, but it's only the first half, the cliffhanger is edited together, footage has been cut, and commercials have been added to make it last 1 hour. On the other hand, BBC America can be received nationwide. BBC America premiere for this episode.