Last updated 02 January 2017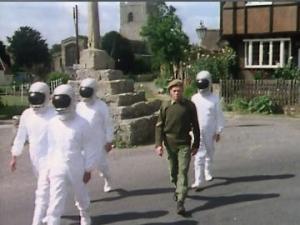 Broadcast: Sunday 2nd May 1999
11:00pm-11:25pm PDT
(06:00 GMT)
<
>
«
»
KQED Plus
Featuring: Tom Baker, Elisabeth Sladen, Martin Friend, Milton Johns
The TARDIS apparently arrives back on Earth but all is not as it seems as the Doctor and Sarah are attacked by mysterious space suited figures and find that the 'dead' are walking.
Synopsis Source: Doctor Who Guide
Broadcast Source: TWIDW
Report from the This Week in Doctor Who Archive:
Friday 30th April 1999:
KTEH 54 San Jose, CA
http://www.kteh.org/
Saturday at 11PM PDT The Android Invasion all 4 episodes
The 4th Doctor and Sarah finally get back to Earth, only to find it mostly deserted. The only survivors appear to be both insane and indestructible. And there appears to be no past anymore. Final appearances of RSM Benton and Harry Sullivan.