Last updated 02 January 2017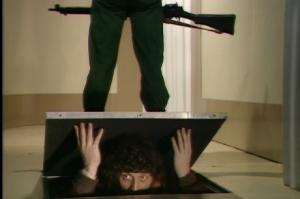 Broadcast: Sunday 28th March 1999
11:50pm-12:15am PST
(07:50 GMT)
<
>
«
»
KQED Plus
Featuring: Tom Baker, Ian Marter, Elisabeth Sladen, Peter Miles, Michael Wisher
The Doctor informs the Kaled government of Davros's experiments and they move to shut down the bunker. But Davros is one step ahead and prepares to take drastic action.
Synopsis Source: Doctor Who Guide
Broadcast Source: TWIDW
Report from the This Week in Doctor Who Archive:
Friday 26th March 1999:
KTEH 54 San Jose, CA
http://www.kteh.org/
Sunday at 11PM PST Genesis of the Daleks all 6 episodes
Late Sunday at 1:30AM "1987 Terry Nation Interview"
The 4th Doctor is ordered by the Time Lords to alter the creation of the Daleks ... by whatever means necessary. After the story, see an interview with the man who created the Daleks, who has since passed away.