Last updated 02 January 2017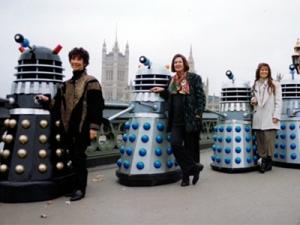 Broadcast: Saturday 11th December 1999
9:00pm-9:50pm CST
(03:00 GMT)
<
>
«
»
Lakeshore Public Television
Featuring: Colin Baker, Nicola Bryant, Nicholas Courtney, Terrance Dicks, Philip Hinchcliffe, Frazer Hines, Barry Letts, Sylvester McCoy, Jon Pertwee, Elisabeth Sladen, Deborah Watling, Michael Wisher
Broadcast Source: TWIDW
Report from the This Week in Doctor Who Archive:
Friday 10th December 1999:
WYIN 56 Gary, IN
http://www.wyin.org/
Sat 9PM CST Thirty Years In The TARDIS 1993 documentary
A much more recent documentary than the one that aired last week. To celebrate the 30thanniversary of
Doctor Who
, a 50 minute documentary examining the series is made. Released on video in 1994 in a 90 minute version, which TV stations cannot get.