Last updated 02 January 2017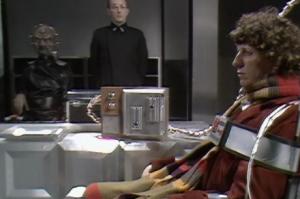 Broadcast: Saturday 19th June 1999
10:00pm-10:25pm CDT
(03:00 GMT)
<
>
«
»
Lakeshore Public Television
Featuring: Tom Baker, Ian Marter, Elisabeth Sladen, Peter Miles, Michael Wisher
When the Kaled dome is destroyed by the Thals' rocket, the war appears to be over and the Thals rejoice at their victory. But then, the Daleks appear and a massacre begins.
Synopsis Source: Doctor Who Guide
Broadcast Source: TWIDW
Report from the This Week in Doctor Who Archive:
Friday 18th June 1999:
WYIN 56 Gary, IN
(Chicago, IL)
http://www.wyin.org/
http://www.tvquest.com/ zip 4????
Saturday at 10PM CDT Genesis of the Daleks episode 3 of 6
(actually Part Four)
Sarah is exposed to dangerous radiation levels as a prisoner of the Thals. The Doctor and Harry try to co-ordinate Kaled resistance to the machinations of Davros. A sudden betrayal results in the destruction of one of the races in the Kaled / Thal war.