Last updated 02 January 2017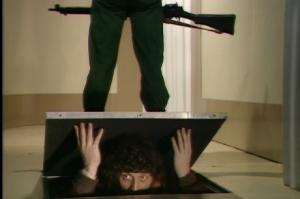 Broadcast: Saturday 12th June 1999
10:00pm-10:25pm CDT
(03:00 GMT)
<
>
«
»
Lakeshore Public Television
Featuring: Tom Baker, Ian Marter, Elisabeth Sladen, Peter Miles, Michael Wisher
The Doctor informs the Kaled government of Davros's experiments and they move to shut down the bunker. But Davros is one step ahead and prepares to take drastic action.
Synopsis Source: Doctor Who Guide
Broadcast Source: TWIDW
Report from the This Week in Doctor Who Archive:
Friday 11th June 1999:
WYIN 56 Gary, IN
(Chicago, IL) http://www.wyin.org/
Saturday at 10PM CDT Genesis of the Daleks episode 2 of 6
(actually Part Three)
The Mark 3 Travel Machine is revealed. It is shaped a bit like a pepper pot, with lots of bumps along the side. It has a peculiar eyestock on the head. A plunger acts like a hand. A stick emits a beam of death. Inside the pepper pot is a shriveled little being that used to be a man. The Kaleds hope that the Mark 3 Travel Machine will result in a new beginning for the Kaled people. The Doctor sees only his oldest enemies being born.