Last updated 02 January 2017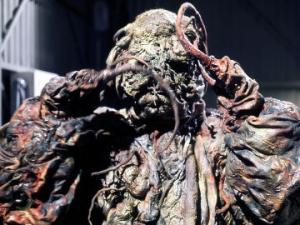 Broadcast: Saturday 7th August 1999
11:00pm-11:25pm EDT
(03:00 GMT)
<
>
«
»
MiND
Featuring: Tom Baker, Elisabeth Sladen, Tony Beckley, John Challis
The Doctor, Sarah and Scorby are hunted down by the mad Harrison Chase. Outside the Krynoid prepares to germinate, sending its deadly seed pods out across the world.
Synopsis Source: Doctor Who Guide
Broadcast Source: TWiDW
Reports from the This Week in Doctor Who Archive:
---
Friday 13th August 1999:
WYBE Philadelphia
decided to air
Seeds Of Doom
episode 6
last week
after all. At the beginning of last week's broadcast, they had a nice caption saying approximately
"Last week we missed episode 6 of The Seeds Of Doom, but you don't have to. We are showing it again - we heard your call - we are showing them in order.
(Thanks to Jim Castelli for the caption wording.) It ran at 11PM, pushing
Masque Of Mandragora 1
to 11:30PM and delaying Masque Of Mandragora 2 by a week. Presumably they will air Masque 2 and 3 this week, Masque 4 and
Hand 1
next week, etc.