Last updated 02 January 2017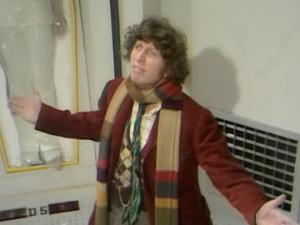 Broadcast: Saturday 27th March 1999
9:00pm-9:25pm EST
(02:00 GMT)
<
>
«
»
MiND
Featuring: Tom Baker, Ian Marter, Elisabeth Sladen
The TARDIS arrives in the far future on the Ark space station where mankind's survivors are in hibernation. Sarah is accidentally placed in suspended animation.
Synopsis Source: Doctor Who Guide
Time approximate as part of a pledge evening (9:00pm-Midnight)
Broadcast Source: TWiDW
Report from the This Week in Doctor Who Archive:
Friday 26th March 1999:
WYBE 35 Philadelphia, PA
http://www.wybe.org/
Saturday at 9:30PM EST The Ark In Space all 4 episodes
Pledge special. Runs until Midnight. The 4th Doctor, Sarah, and Harry land in the far future on a Space Ark where the last survivors of humanity hibernate, waiting for the signal to emerge and repopulate Earth. Sabotage has caused them to oversleep, and it appears that another power has its own plans for humanity.