Last updated 02 January 2017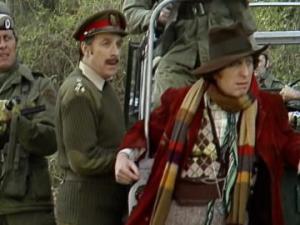 Broadcast: Saturday 13th March 1999
11:00pm-11:25pm EST
(04:00 GMT)
<
>
«
»
MiND
Featuring: Tom Baker, Nicholas Courtney, Ian Marter, Elisabeth Sladen, Patricia Maynard
Sealed inside an underground bunker, Miss Winters issues her demands to the world's leaders, threatening a devastating nuclear strike if her demands are not met.
Synopsis Source: Doctor Who Guide
Broadcast Source: TWiDW
Report from the This Week in Doctor Who Archive:
Friday 12th March 1999:
WYBE 35 Philadelphia, PA
http://www.wybe.org/
Saturday at 11PM EST Robot episodes 3 and 4 of 4
The SRS contemplates nuclear war. The robot has a mental breakdown from contradictory orders. Disaster breaks loose. Watch it. You'll like it.