Last updated 01 February 2017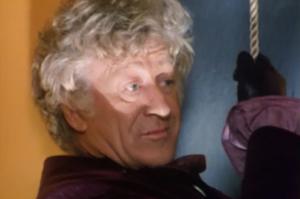 Broadcast: Saturday 28th August 1999
11:30pm-11:55pm EDT
(03:30 GMT)
«
»
WCET
Featuring: Jon Pertwee, Katy Manning, Prentis Hancock, Bernard Horsfall
The Doctor and the Thals escape from the Dalek city and the Doctor is delighted to find Jo is alive. But the Daleks are preparing deadly bacteria to kill all life on the planet.
Synopsis Source: Doctor Who Guide
Part of the five part version with episode three absent and subsequent episodes renumbered.
Broadcast Source: TWIDW
Report from the This Week in Doctor Who Archive:
Friday 27th August 1999:
WCET 48 Cincinnati, OH
http://www.wcet.org/
Sat 11:30PM EDT Planet of the Daleks eps 4 and 5 of 6
This version is designed to cover up the fact that the color version of episode 3 is missing. The titles have been redone to claim to be eps 3 and 4. After escaping from the Daleks in the episode this version doesn't admit exists, the Doctor works with the Thals to find a plan to destroy the Dalek army. The station probably was sold this as part of the regular package, and may not know that episode 3 was skipped. Next time they get to the Pertwee era, someone will have to politely warn them so they can raise the money to get the complete version.