Last updated 02 January 2017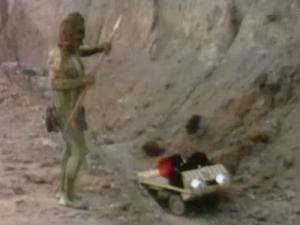 Broadcast: Saturday 15th May 1999
11:55pm-12:20am EDT
(03:55 GMT)
<
>
«
»
WCET
Featuring: Jon Pertwee, Katy Manning, Tony Caunter, Roger Delgado, Bernard Kay, Morris Perry, John Ringham, Helen Worth
With Jo held prisoner in his TARDIS, the Master forces the Doctor to take him to the underground city of the primitives. Any sign of treachery from the Doctor and Jo will die.
Synopsis Source: Doctor Who Guide
Broadcast Source: TWIDW
Report from the This Week in Doctor Who Archive:
Friday 14th May 1999:
WCET 48 Cincinnati, OH
http://www.wcet.org/
Saturday at 11:30PM EDT Colony In Space eps 4 and 5 of 6
Let's check the scorecard. The colonists form one faction. The miners form a second faction. The adjudicator (Roger Delgado) has his own sinister motivations, forming a third faction. The savages are getting very restless, forming a fourth faction. And the 3rd Doctor and Jo, trying to keep everyone alive, make a fifth faction. Amazingly, all five sides do badly this week. Any more subplots and they'd be mistaken for Babylon 5.