Last updated 02 January 2017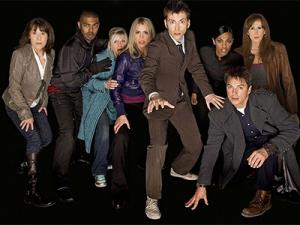 Visit Broadcast Link
Broadcast: Sunday 15th June 2014
11:55am-12:45pm CEST
(09:55 GMT)
<
>
«
»
Presented in German
FOX Channel (Germany)
Featuring: David Tennant, Freema Agyeman, John Barrowman, Bernard Cribbins, Billie Piper, Elisabeth Sladen, Catherine Tate, Julian Bleach
Die Erde und 26 weitere Planeten verschwinden spurlos - und kein Geringerer als Davros, der totgeglaubte Schöpfer der Daleks, übernimmt die Verantwortung für das dreiste Kidnapping. Während der Doktor und Donna herauszufinden versuchen, wohin die vermissten Planeten gebracht wurden, fallen auf der Erde Heerscharen von Daleks ein. Zahlreiche alte Bekannte des Doktors, darunter Captain Jack Harkness, Sarah Jane Smith, Martha Jones und Rose Tyler, schließen sich zusammen, um im Untergrund den Widerstand gegen die Besatzungsarmee zu organisieren...
Synopsis Source: Foxchannel.de
Due to an extraneous entry in the series listing FOX reported that this episode was Turn Left, local German EPG confirmed it was The Stolen Earth.
Broadcast Source: FOX Channel