Last updated 02 January 2017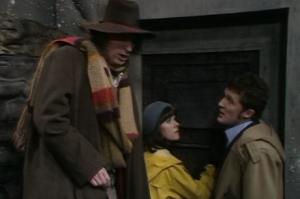 Broadcast: Sunday 28th March 1999
2:00pm-3:00pm EST
(19:00 GMT)
<
>
«
»
BBC America
Featuring: Tom Baker, Ian Marter, Elisabeth Sladen, Peter Miles, Michael Wisher
The Time Lords send the Doctor, Sarah and Harry to Skaro at a point in time shortly before the creation of the Daleks. The Doctor's mission is to destroy his greatest enemy.
Synopsis Source: Doctor Who Guide
Broadcast Source: TWIDW
Report from the This Week in Doctor Who Archive:
Friday 26th March 1999:
BBC America
http://www.bbcamerica.com/
Saturday at 5PM EST, Sunday at 2PM EST Genesis of the Daleks movie version, part 1 of 3
The 4th Doctor finds himself on Skaro with orders to alter the development of the Daleks. Before he can act on them, he finds himself distracted by an ongoing war. Edited for extra commercials.