Last updated 02 January 2017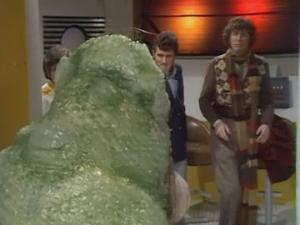 Broadcast: Sunday 14th March 1999
2:00pm-3:00pm EST
(19:00 GMT)
<
>
«
»
BBC America
Featuring: Tom Baker, Ian Marter, Elisabeth Sladen, Kenton Moore, Wendy Williams
The Doctor subjects himself to a dangerous experiment so that he can access the memories of the dead Wirrn Queen. Elsewhere, the larvae Wirrn are pupating into their adult form.
Synopsis Source: Doctor Who Guide
Broadcast Source: TWIDW
Report from the This Week in Doctor Who Archive:
Friday 12th March 1999:
BBC America
http://www.bbcamerica.com/
Saturday at 5PM EST, Sunday at 2PM The Ark In Space movie version, part 2 of 2
The 2nd half of the story airing on
KTEH
, edited to remove a cliffhanger plus other footage to make room for commercials. Noah, leader of the humans, discovers that he is turning into one of the Wirrn. He cannot stop the transformation. He realizes that he will lead the assault which will wipe out his own species. 1 hour.