Last updated 02 January 2017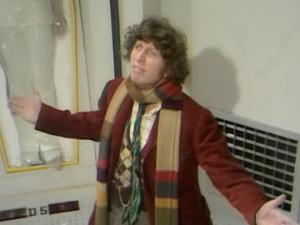 Broadcast: Saturday 6th March 1999
5:00pm-6:00pm EST
(22:00 GMT)
<
>
«
»
BBC America
Featuring: Tom Baker, Ian Marter, Elisabeth Sladen
The TARDIS arrives in the far future on the Ark space station where mankind's survivors are in hibernation. Sarah is accidentally placed in suspended animation.
Synopsis Source: Doctor Who Guide
Broadcast Source: TWIDW
Report from the This Week in Doctor Who Archive:
Friday 5th March 1999:
BBC America
http://www.bbcamerica.com/
Saturday at 5PM EST, Sunday at 2PM The Ark In Space movie version, part 1 of 2
Having aired the newest batch of episodes they had the rights to show, BBC America returns to this 2nd 4th Doctor story. The TARDIS crew land on Space Station Nerva, home to the last survivors of humanity, sleeping away until they receive the revival call. But the wires have been cut, and the humans are long overdue to wake up. Who is sabotaging Nerva, why, and what is that skeleton in the closet over there? Edited to make room for extra commercials. 1 hour.