Last updated 02 January 2017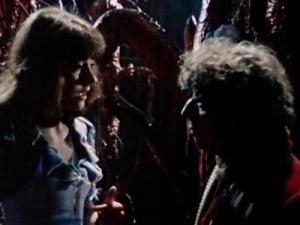 Broadcast: Saturday 6th February 1999
5:00pm-6:00pm EST
(22:00 GMT)
<
>
«
»

<
>
«
»
BBC America
Featuring: Tom Baker, Elisabeth Sladen, Prentis Hancock, Frederick Jaeger
The TARDIS takes the Doctor and Sarah to the planet Zeta Minor on the edge of the universe. An unseen menace has wiped out a Morestran expedition and haunts the alien jungle...
Synopsis Source: Doctor Who Guide
Broadcast Source: TWIDW
Report from the This Week in Doctor Who Archive:
Friday 5th February 1999:
BBC America
http://www.bbcamerica.com/
Saturday at 5PM EST, Sunday at 2PM Planet of Evil movie version, part 1 of 2
The 4th Doctor and Sarah discover that the TARDIS has bungled it again. Instead of going to London, it's taken them to a planet on the border between matter and anti-matter. And something on that planet is killing people. The episodes have been edited together for time and to make room for additional commercials. 1 hour.