Last updated 02 January 2017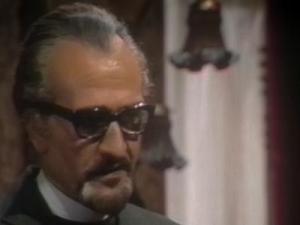 Broadcast: Sunday 25th April 1999
3:00pm-3:25pm EDT
(19:00 GMT)
<
>
«
»
NHPTV
Featuring: Jon Pertwee, Nicholas Courtney, Katy Manning, Roger Delgado, Richard Franklin, Damaris Hayman, John Levene
The Doctor attempts to help the Brigadier penetrate the heat barrier, but is attacked by the Master's servant in a helicopter. The Master prepares to summon the Daemon Azal.
Synopsis Source: Doctor Who Guide
Broadcast Source: TWIDW
Report from the This Week in Doctor Who Archive:
Friday 23rd April 1999:
NHPTV New Hampshire
11, 49, 52
http://nhptv.org/
Sunday at 3PM EDT The Dæmons episodes 3 and 4 of 5
The Master cuts the village completely off from the outside world. His efforts to get Azal to obey him are, shall we say, slightly less effective. The Master gets his own cliffhanger!