Last updated 02 January 2017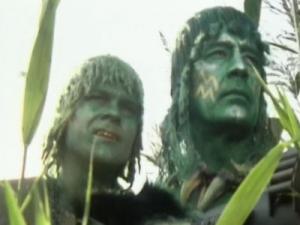 Broadcast: Saturday 14th August 1999
9:30am-10:00am CEST
(07:30 GMT)
«
»
BBC Entertainment (Europe)
Featuring: Tom Baker, John Leeson, Mary Tamm, Philip Madoc, Glyn Owen
The Doctor arrives in time to save Romana from being sacrificed to the bogus god, Kroll. But it's not long before the very real Kroll makes a terrifying appearance.
Synopsis Source: Doctor Who Guide
Broadcast Source: BBC Worldwide
Report from the This Week in Doctor Who Archive:
Friday 13th August 1999:
BBC Prime
http://www.bbcprime.com/
Late Fri 1:05AM CET (not Africa) The Power of Kroll ep 1 of 4
Sat 9:30AM and 6PM CET The Power of Kroll ep 2 of 4
A swamp planet. Slimy green natives. Refinery experts who look suspiciously like guest stars from previous stories. The largest squid that ever existed. What does any of this have to do with the Key To Time? Watch this story, the most popular installment of the 1978-1979 season, and find out.