Last updated 02 January 2017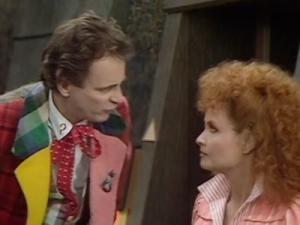 Broadcast: Saturday 3rd April 1999
5:00pm-6:30pm EST
(22:00 GMT)
<
>
«
»
WUFT
Featuring: Sylvester McCoy, Bonnie Langford, Karen Clegg, Richard Gauntlett, Mark Greenstreet, Kate O'Mara, Donald Pickering
A newly regenerated Doctor is taken to the Rani's base by Urak the Tetrap. Meanwhile Mel meets some of the Lakertyans and falls into one of the Rani's traps.
Synopsis Source: Doctor Who Guide
Broadcast Source: TWIDW
Report from the This Week in Doctor Who Archive:
Friday 2nd April 1999:
WUFT 5 Gainesville, FL
http://www.wuft.org/
Saturday at 5PM EST Time and the Rani movie version
The Rani erases the memory of a newly regenerated 7th Doctor to trick him into finishing her latest ultimate weapon (TM). Memorable moments in this story include the 7th Doctor in the 6th Doctor's clothes (they suit quite well) and the Rani's bizarrely accurate imitation of Mel. An honorable mention also goes to the special effects department, who pulled out all the stops for this story.