Last updated 02 January 2017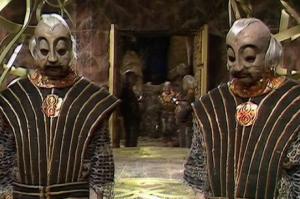 Broadcast: Sunday 26th September 1999
12:30am-2:00am EDT
(04:30 GMT)
<
>
«
»
MPT Maryland
Featuring: Tom Baker, Ian Marter, Elisabeth Sladen, David Collings, Ronald Leigh-Hunt, Jeremy Wilkin
The Doctor, Sarah and Harry return to Nerva, but at an earlier point in time. The crew are dying and blame a space plague, but the Doctor suspects a survivor may be responsible.
Synopsis Source: Doctor Who Guide
Broadcast Source: TWIDW
Report from the This Week in Doctor Who Archive:
Friday 24th September 1999:
MPT Maryland
22, 28, 31, 36, 62, 67
http://www.mpt.org/
Late Sat 12:30AM EDT Revenge of the Cybermen movie
Voga, the planet of Gold. This is the voyage of the space beacon Nerva. It's 50 year mission - to warn space freighters off this strange new world. To keep out new life and new civilizations. To boldly protect a barren lump of rock as no man has protected a barren lump of rock before.