Last updated 02 January 2017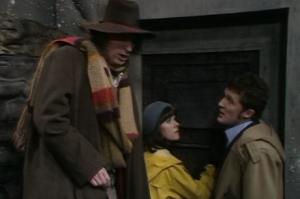 Broadcast: Sunday 19th September 1999
12:30am-2:45am EDT
(04:30 GMT)
<
>
«
»
MPT Maryland
Featuring: Tom Baker, Ian Marter, Elisabeth Sladen, Peter Miles, Michael Wisher
The Time Lords send the Doctor, Sarah and Harry to Skaro at a point in time shortly before the creation of the Daleks. The Doctor's mission is to destroy his greatest enemy.
Synopsis Source: Doctor Who Guide
Broadcast Source: TWIDW
Report from the This Week in Doctor Who Archive:
Friday 17th September 1999:
MPT Maryland
22, 28, 31, 36, 62, 67
http://www.mpt.org/
Late Sat 12:30AM EDT Genesis of the Daleks movie
(22, 28, and 67 are close to Hurricane Floyd's flight path.)
The Doctor is intercepted en route back to Nerva by a Time Lord who drafts him to alter the history of the Daleks.