Last updated 02 January 2017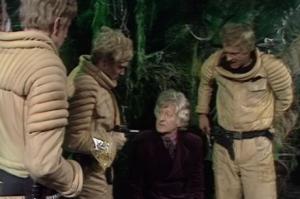 Broadcast: Sunday 11th July 1999
12:30am-3:00am EDT
(04:30 GMT)
<
>
«
»
MPT Maryland
Featuring: Jon Pertwee, Katy Manning, Prentis Hancock, Bernard Horsfall
Injured by the Orgrons, the Doctor asks the Time Lords to send the TARDIS after the Daleks. Leaving him to sleep and recuperate, Jo goes to explore the planet Spirodon.
Synopsis Source: Doctor Who Guide
Broadcast Source: TWIDW
Report from the This Week in Doctor Who Archive:
Friday 9th July 1999:
MPT Maryland
22, 28, 31, 36, 62, 67 http://www.mpt.org/
Late Friday at Midnight, Late Saturday at 12:30AM EDT Planet of the Daleks
This could be interesting. For each airing, MPT has slated 2 and 1/2 hours to the broadcast, enough time to run all 6 episodes, including the Black & White episode 3. MPT usually runs the movie versions, and the movie version of this story cuts out the Black & White story, coming out just under 1 hour and 50 minutes. However, I know they got a fair amount of grief last year when they aired the incomplete version (I was only one of the people who vocally complained). MPT never really explains what they're doing, so we won't know until the story airs whether the Black & White part will air or not. I'll post a report in rec.arts.drwho sometime Saturday after I can check the tape.