Last updated 02 January 2017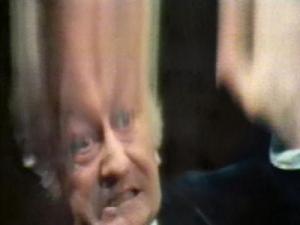 Broadcast: Sunday 4th April 1999
12:00am-1:00am EST
(05:00 GMT)
<
>
«
»
MPT Maryland
Featuring: Jon Pertwee, Nicholas Courtney, Caroline John, Christopher Benjamin, John Levene, Derek Newark, Olaf Pooley
UNIT are at a project run by Professor Stahlman who plans to penetrate Earth's crust. But the drilling has already released something deadly from beneath the planet's surface.
Synopsis Source: Doctor Who Guide
---
Broadcast notes:
Only scheduled for an hour - the full broadcast was 2h30m
Broadcast Source: TWIDW
Report from the This Week in Doctor Who Archive:
Friday 2nd April 1999:
Maryland Public TV
22, 28, 31, 36, 62, 67
http://www.mpt.org/
Late Friday and Saturday at Midnight EST Inferno movie version
The 3rd Doctor and Liz work at a drilling project which seeks to penetrate the core of the Earth. The Doctor wants to use energy from the project to repair the TARDIS console. His efforts go dangerously awry, slipping him sideways in time. Meanwhile, the project has a few "complications". Unusually stark and bleak for a Pertwee tale. MPT has only scheduled one hour for each of the two broadcasts, although the movie version runs 2 and a half hours. Either
Doctor Who
fans won't get the full story, or people tuning in for other shows at 1AM are in for a surprise.