Last updated 02 January 2017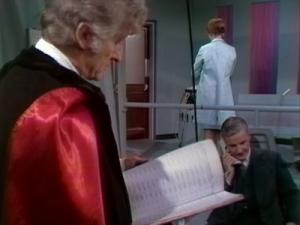 Broadcast: Sunday 21st March 1999
12:00am-2:40am EST
(05:00 GMT)
<
>
«
»
MPT Maryland
Featuring: Jon Pertwee, Nicholas Courtney, Caroline John, Fulton Mackay, Peter Miles
UNIT are summoned to Wenley Moor research station which is experiencing mysterious power losses. In the nearby caves, one of the staff has been killed and another sent insane.
Synopsis Source: Doctor Who Guide
Broadcast Source: TWIDW
Report from the This Week in Doctor Who Archive:
Friday 19th March 1999:
Maryland Public TV
22, 28, 31, 36, 62, 67
http://www.mpt.org/
Late Friday and Saturday at Midnight EST Doctor Who And The Silurians movie format
Doctor who
? Isn't he the one that
Cushing
fellow played in the 60s? Well, as far as I know, this was my first encounter with the Silurians, the original inhabitants of Earth. They were feeling just a bit jealous of the fact that humans had been living in their territory for the past several thousand years, and they decided to do something about it; namely, evicting the humans.