Last updated 02 January 2017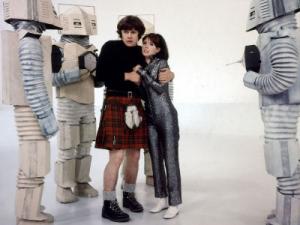 Broadcast: Sunday 7th February 1999
12:00am-1:35am EST
(05:00 GMT)
<
>
«
»
MPT Maryland
Featuring: Patrick Troughton, Frazer Hines, Wendy Padbury, Emrys Jones
The Doctor activates an emergency unit on board the TARDIS to escape destruction by a volcanic eruption.
Unfortunately, it moves them out of normal space and time to a deadly world where fantasy rules. The travelers find themselves lured out of the ship into a ghostly white void.
Synopsis Source: Doctor Who Guide
Broadcast Source: TWIDW
Report from the This Week in Doctor Who Archive:
Friday 5th February 1999:
Maryland Public TV
22, 28, 31, 36, 62, 67
http://www.mpt.org/
Friday and Saturday at Midnight The Mind Robber movie version
The 2nd Doctor, Jamie, and Zoe try to escape a lava flow (see
The Dominators
). Their efforts take them out of time and into a realm of unreality. Surely nothing can hurt them outside reality. What could possibly be there? The 5 shortest regular episodes ever. Compiled into a movie, it runs about 95 minutes.