Last updated 02 January 2017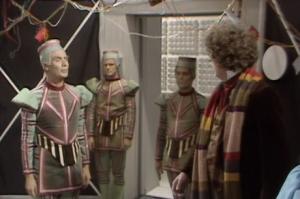 Broadcast: Saturday 31st July 1999
11:30pm-11:55pm EDT
(03:30 GMT)
<
>
«
»
Maine Public Broadcasting
Featuring: Tom Baker, Louise Jameson, Brendan Price
Penetrating the barrier with Leela, the Doctor enters the spaceship which is controlled by the Tesh. There he discovers the truth about Xoanon and realises that he is to blame.
Synopsis Source: Doctor Who Guide
Broadcast Source: TWIDW
Report from the This Week in Doctor Who Archive:
Friday 30th July 1999:
MPBC Maine
10, 10, 12, 13, 26
http://www.mpbc.org/
Sat 11:30PM EDT (12:30AM ADT) The Face of Evil ep 3 of 4
The Sevateem try to attack the barrier to get at the Tesh. Xoanon goes suicidal. The 4th Doctor tries to undo damage he did in the past.