Last updated 02 January 2017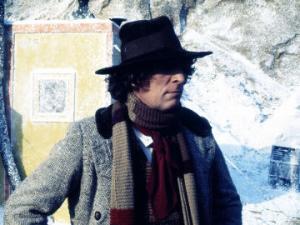 Broadcast: Saturday 10th April 1999
9:00pm-9:25pm EDT
(01:00 GMT)
<
>
«
»
Maine Public Broadcasting
Featuring: Tom Baker, Elisabeth Sladen, Tony Beckley, John Challis
Learning of an alien seed pod at the Antarctic, the Doctor and Sarah investigate. But they are too late. A man is already turning into a Krynoid.
Synopsis Source: Doctor Who Guide
Broadcast Source: TWIDW
Report from the This Week in Doctor Who Archive:
Friday 9th April 1999:
MPBC Maine
10, 10, 12, 13, 26
http://www.mpbc.org/
Saturday at 9PM EDT The Seeds of Doom episodes 1 and 2 of 6
Tonight's episodes form their own little mini-story within the story. Unusual plant pods are discovered in Antarctica. UNIT sends in John Steed and Miss Peel (er, the Doctor and Sarah) to examine the pods. The Doctor fears that the pods may be dangerous. But one person is willing to pay any price for the pods, even if it's the end of humanity.