Last updated 02 January 2017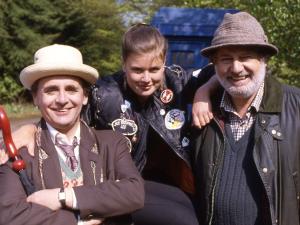 Broadcast: Sunday 7th February 1999
11:50pm-12:15am PST
(07:50 GMT)
<
>
«
»
KQED Plus
Featuring: Sylvester McCoy, Sophie Aldred, Nicholas Courtney, Angela Bruce, James Ellis, Jean Marsh
Furious at her inability to find and engage Arthur in battle, Morgaine threatens to unleash the Destroyer upon the planet unless the Doctor gives her what she wants.
Synopsis Source: Doctor Who Guide
Broadcast Source: TWIDW
Report from the This Week in Doctor Who Archive:
Friday 5th February 1999:
KTEH 54 San Jose, CA
http://www.kteh.org/
Sunday at 11PM Battlefield all 4 episodes
Isn't it amazing how coincidences like these can happen? The only
Who
station in California airs the story with
Jean Marsh
's final
Doctor Who
appearance, just 6 days before
The Lion
, the lost episode of
The Crusade
with Jean Marsh's first
Doctor Who
appearance, premieres in the US at Gallifrey 1999. This story also features
Nicholas Courtney
's return as The Brigadier as the 7thDoctor and UNIT battle knights from another dimension who have come to retrieve Arthur. It even features the return of a certain yellow roadster that fans of the 3rd Doctor might recognize. 4 episodes of must-see-
Who
this Sunday night.