Last updated 02 January 2017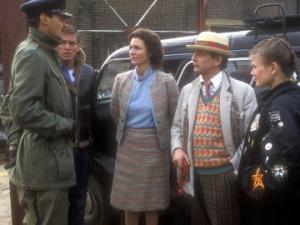 Broadcast: Sunday 10th January 1999
11:00pm-11:25pm PST
(07:00 GMT)
<
>
«
»
KQED Plus
Featuring: Sylvester McCoy, Sophie Aldred, Dursley McLinden, Pamela Salem, Simon Williams
In Shoreditch, 1963, the Doctor's past begins to catch up with him… At the Totter's Lane junkyard where his adventures began, an old terror is returning.
Synopsis Source: Doctor Who Guide
Broadcast Source: TWIDW
Report from the This Week in Doctor Who Archive:
Friday 8th January 1999:
KTEH 54 San Jose, California
http://www.kteh.org/
Sunday at 11PM - Rememberance of the Daleks - all 4 episodes
The TARDIS arrives in London in 1963, where the Doctor and Ace encounter two rival factions of daleks seeking an ancient Gallifreyan artifact that the Doctor left behind on Earth long ago. The Doctor has a plan up his sleeve and we're wondering what's going on. This story was later retconned by a certain BBC Books author; find out why.