Last updated 02 January 2017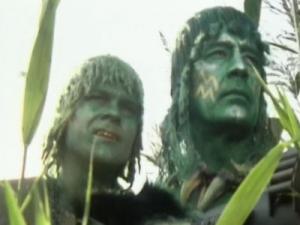 Broadcast: Friday 6th April 2001
10:30pm-10:55pm CDT
(03:30 GMT)
«
»

«
»
Prairie Public Television
Featuring: Tom Baker, John Leeson, Mary Tamm, Philip Madoc, Glyn Owen
The Doctor arrives in time to save Romana from being sacrificed to the bogus god, Kroll. But it's not long before the very real Kroll makes a terrifying appearance.
Synopsis Source: Doctor Who Guide
Broadcast Source: TWIDW
Report from the This Week in Doctor Who Archive:
Friday 6th April 2001:
PPTV North Dakota
2,3,4,6,9,13,19
http://www.pptv.org/
Fri 10:30PM CDT (9:30PM MDT) The Power of Kroll ep 2 of 4
Due to the actions of Rohm-Dutt, the Doctor is blamed for weapons that don't work. The penalty - making a sacrifice to Kroll. Or, more accurately, being made a sacrifice to Kroll. John Leeson (voice of K9 from many 4th Doctor stories) guest stars as Dugeen.