Last updated 02 January 2017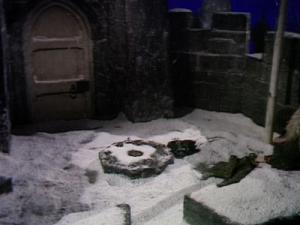 Broadcast: Friday 10th November 2000
10:30pm-10:55pm CST
(04:30 GMT)
<
>
«
»

<
>
«
»
Prairie Public Television
Featuring: Tom Baker, Mary Tamm, Iain Cuthbertson, Cyril Luckham
The Guardian of Time gives the Doctor a difficult task, and a new assistant. Together they must search for the six segments of the Key to Time, to prevent the Universe from being plunged into eternal chaos.
On their mission, the Doctor and Romana travel to the planet Ribos where the first segment of the key is protected by the monstrous Shrivenzale.
Synopsis Source: Doctor Who Guide
Broadcast Source: TWIDW
Reports from the This Week in Doctor Who Archive:
Friday 5th March 1999:
WUFT 5 Gainesville, FL
http://www.wuft.org/
Saturday at 5PM EST "

To Be Announced

" movie version
WUFT has given 2 hours to Doctor Who this pledge weekend, but hasn't said which Doctor Who story will air. Story-wise, they should air the conclusion of
Trial Of A Time Lord
, but that is only 55 minutes long. Runs until 7PM, whatever it is.
---
Friday 10th November 2000:
PPTV North Dakota
2,3,4,6,9,13,19
http://www.pptv.org/
Fri 10:30PM CST (9:30PM MST) The Ribos Operation ep 1 of 4
The Doctor's vacation is interrupted by a probable fraud pretending to be an all-powerful Guardian. This "white guardian" wants the Doctor, K9, and a new person named Romanadvoratrelundar to find the 6 segments of a Key that can reset the balance of good and evil in Time.