Last updated 02 January 2017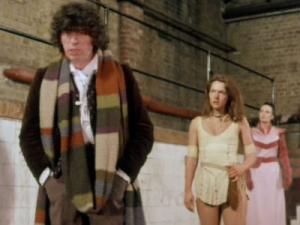 Broadcast: Friday 3rd November 2000
10:30pm-10:55pm CST
(04:30 GMT)
«
»

«
»
Prairie Public Television
Featuring: Tom Baker, Louise Jameson, John Leeson, John Arnatt, Christopher Tranchell
Stor, the Sontaran leader, finally gains access to the TARDIS in search of the Great Key of Rassilon and a dangerous game of hide and seek begins inside the Doctor's ship.
Synopsis Source: Doctor Who Guide
Broadcast Source: TWIDW
Report from the This Week in Doctor Who Archive:
Friday 3rd November 2000:
PPTV North Dakota
2,3,4,6,9,13,19
http://www.pptv.org/
Fri 10:30PM CST (9:30PM MST) The Invasion of Time ep 6 of 6
An episode set mostly inside the TARDIS, as the Doctor tries to keep the invaders from getting their hands on the Great Key. He has his own sinister plans for the key.