Last updated 02 January 2017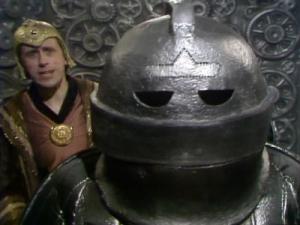 Broadcast: Friday 27th October 2000
10:30pm-10:55pm CDT
(03:30 GMT)
<
>
«
»

<
>
«
»
Prairie Public Television
Featuring: Tom Baker, Louise Jameson, John Arnatt, Christopher Tranchell
The Sontarans have taken control of the Capital on Gallifrey and intend to use the power of the Time Lords to rampage through all of time.
Synopsis Source: Doctor Who Guide
Broadcast Source: TWIDW
Report from the This Week in Doctor Who Archive:
Friday 27th October 2000:
PPTV North Dakota
2,3,4,6,9,13,19
http://www.pptv.org/
Fri 10:30PM CDT (9:30PM MDT) The Invasion of Time ep 5 of 6
"Castellan's log. Galactic date: do you really think I'd be dumb enough to leave a date of when I write things down? Well, it appears that the Vardans were not the brightest of people. The Doctor did them in. No one trusts me, but I've covered enough tracks not to get thrown out of power regardless of who wins. Now, the Sontarans have shown up. A shock, but the universe is full of surprises. They don't like the Doctor at all. This would be a good time to go for President instead of staying in my current position. Wouldn't want to be on the wrong side of that gun."