Last updated 02 January 2017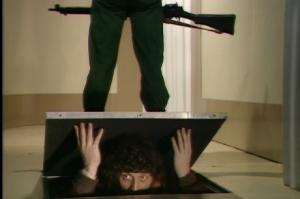 Broadcast: Friday 12th February 1999
10:30pm-10:55pm CST
(04:30 GMT)
<
>
«
»

<
>
«
»
Prairie Public Television
Featuring: Tom Baker, Ian Marter, Elisabeth Sladen, Peter Miles, Michael Wisher
The Doctor informs the Kaled government of Davros's experiments and they move to shut down the bunker. But Davros is one step ahead and prepares to take drastic action.
Synopsis Source: Doctor Who Guide
Broadcast Source: TWIDW
Report from the This Week in Doctor Who Archive:
Friday 12th February 1999:
Prairie Public TV of ND
2, 3, 4, 6, 9, 13 http://www.prairiepublic.org/
Friday at 10:30PM Genesis of the Daleks episode 3 of 6
Two cases of treachery among the Kaleds this week. One will give the 4th Doctor a chance to stop the Daleks. Another may mean the annihilation of the Kaled race. In a countdown to catastrophe, who will win?