Last updated 02 January 2017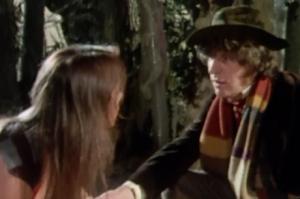 Broadcast: Saturday 31st October 1998
10:45pm-12:15am PST
(06:45 GMT)
<
>
«
»
KSPS
Featuring: Tom Baker, Louise Jameson, Brendan Price
The Doctor arrives on an alien world and is taken captive by the savage Sevateem tribe. Accused of being 'the evil one', the Doctor begins to suspect that he has been here before.
Synopsis Source: Doctor Who Guide
Broadcast Source: TWIDW
Report from the This Week in Doctor Who Archive:
Friday 30th October 1998:
KSPS Spokane, Washington
- channel 7
Saturday at *10:45PM* - The Face of Evil - movie version
When Doctor met Savage. The 4th Doctor and Leela, a member of the Sevateem, join forces to solve the mystery of Xoanon, a being posing as a god who is developing two very different kinds of civilizations. Interestingly, Xoanon's description and voice bear a striking similarity to ... the Doctor. About 95 minutes. Special late starting time due to movie earlier in evening.