Last updated 02 January 2017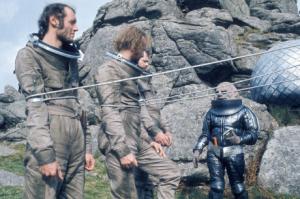 Broadcast: Saturday 8th August 1998
10:45pm-12:00am PDT
(05:45 GMT)
<
>
«
»
KSPS
Featuring: Tom Baker, Ian Marter, Elisabeth Sladen, Kevin Lindsay
The Doctor, Harry and Sarah find Earth is a desolate wilderness. They meet a group of stranded human colonists who are being hunted by a robot and experimented upon by its master.
Synopsis Source: Doctor Who Guide
75 minute slot owing to being part of a pledge night.
Broadcast Source: TWIDW
Report from the This Week in Doctor Who Archive:
Friday 7th August 1998:
KSPS 7 in Spokane, Washington
continues the Nerva Chronicles with
The Sontaran Experiment
. The Doctor, Sarah, and Harry travel to an abandoned Earth, only to learn that it's not really abandoned. And the Sontarans are back. The 45 minute movie version has been given a 75 minute slot for pledge purposes, beginning at
10:45PM Saturday Pacific time (11:45PM Mountain)
. Some Alberta, Canada viewers can also see these broadcasts.