Last updated 02 January 2017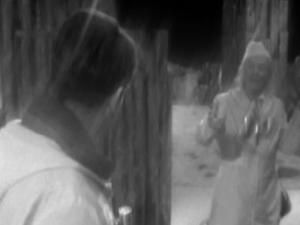 Broadcast: Sunday 6th December 1998
12:00am-2:30am EST
(05:00 GMT)
<
>
«
»
MPT Maryland
Featuring: William Hartnell, Jacqueline Hill, Maureen O'Brien, William Russell
The TARDIS is pulled down to the barren world of Vortis. The Doctor and Ian explore. Barbara falls under an hypnotic influence and is compelled to leave the safety of the TARDIS.
Synopsis Source: Doctor Who Guide
Broadcast Source: TWIDW
Report from the This Week in Doctor Who Archive:
Friday 4th December 1998:
Maryland Public Television
22, 28, 31, 36, 62, 67 - http://www.mpt.org/
Friday and Saturday at Midnight - The Web Planet - movie version
The TARDIS is dragged onto a planet with minimal atmosphere, giant ants, and poor visibility. Where the laws of physics are somewhat different, especially where gold is concerned. Paradise has been lost. Can the 1st Doctor, Ian, Barbara, and Vicki bring it back? And will Ian get a new pen?