Last updated 02 January 2017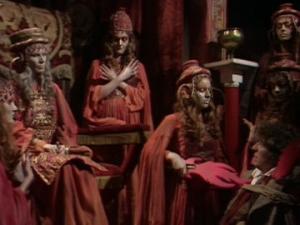 Broadcast: Saturday 26th June 1999
11:00pm-11:30pm EDT
(03:00 GMT)
<
>
«
»
WQED
Featuring: Tom Baker, Elisabeth Sladen, Cynthia Grenville, Philip Madoc
The Doctor is a prisoner of the Sisterhood of Karn who intend to burn him at the stake. Sarah hurries to the Doctor's rescue but pays the price for her efforts.
Synopsis Source: Doctor Who Guide
---
Broadcast notes:
Included Howard DeSilva introduction.
TWIDW reported this as episode three, but it seems more likely to be episode two.
Broadcast Source: TWIDW
Report from the This Week in Doctor Who Archive:
Friday 25th June 1999:
WQED / WQEX 13, 16 Pittsburgh, PA
http://www.wqed.org/
http://www.tvquest.com/ zip 15201
Special Who pledge line (toll call) 1-900-990-1313
Other Pledge lines (non-toll) 1-800-232-8813 and 412-621-5808
SCI-FI SATURDAY NIGHT FEVER - IN 6 WEEKS ...
Saturday at 11PM EDT The Brain of Morbius episode 3 of 4
Afterwards - Doctor Who And The Silurians episode 1 of 7 (color)
The Sisterhood of Karn decide to kill the Doctor, believing him to be their enemy. Later, flash back to the 3rd Doctor, who gets called out to an underground nuclear reactor suffering from a rash of power failures. The Doctor suspects the answer lies in the caves the reactor was built out of.
It is more likely that this was The Brain of Morbius: Part Two rather than episode three, based on the broadcast pattern.