Last updated 02 January 2017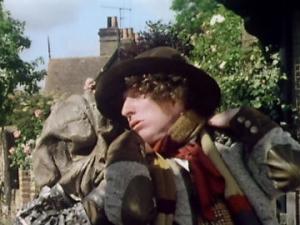 Broadcast: Saturday 8th May 1999
11:00pm-11:30pm EDT
(03:00 GMT)
<
>
«
»
WQED
Featuring: Tom Baker, Ian Marter, Elisabeth Sladen, Martin Friend, Milton Johns
The Kraals intend to invade Earth by stowing away aboard Crayford's rocket as it returns home. The Doctor learns Styggron's plan is to wipe out all life on the planet.
Synopsis Source: Doctor Who Guide
---
Broadcast notes:
Included Howard DeSilva introduction.
Broadcast Source: TWIDW
Report from the This Week in Doctor Who Archive:
Friday 7th May 1999:
WQED / WQEX 13, 16 Pittsburgh, PA
http://www.wqed.org/
Saturday at 11PM EDT The Android Invasion episode 3 of 4
Immediately afterwards - The Tomb of the Cybermen episode 1 of 4 (FIRST EVER PITTSBURGH BROADCAST!)
Sarah's been replaced by an android, leaving the 4th Doctor without a companion in his battle against the Kraals. He can't go to Earth, as the TARDIS went there without him. Rough day. Then, The Tomb Of The Cybermen makes its Pittsburgh premiere. The 2nd Doctor, Jamie, and Victoria leave Skaro and land on Telos, the last resting place of the villainous Cybermen.