Last updated 02 January 2017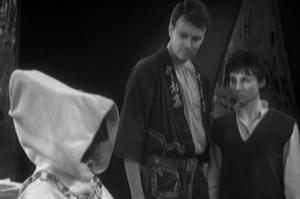 Broadcast: Saturday 1st May 1999
11:30pm-12:00am EDT
(03:30 GMT)
<
>
«
»
WQED
Featuring: William Hartnell, Carole Ann Ford, Jacqueline Hill, William Russell, Stephen Dartnell, Robin Phillips, Katharine Schofield
The Doctor solves the murder mystery and finds the final missing key. With Ian now free, the travellers return to the island only to discover that Arbitan has been murdered.
Synopsis Source: Doctor Who Guide
Actually broadcast a little earlier as immediately followed the previous episode with no gap between.
Broadcast Source: TWIDW
Report from the This Week in Doctor Who Archive:
Friday 30th April 1999:
WQED / WQEX 13, 16 Pittsburgh, PA
http://www.wqed.org/
Saturday at 11PM EDT The Android Invasion episode 2 of 4
Immediately afterward - The Keys of Marinus episode 6 of 6
In "Android Invasion", the 4th Doctor learns that everyone in the village and at the space station are duplicates. Where did all the real people go? Then, in the conclusion of "Keys Of Marinus", the 1st Doctor tries to overturn the court's verdict before Ian is executed. The surviving cast members then try to return the keys of Marinus to Arbitan, but may find it more difficult then they thought.