Last updated 02 January 2017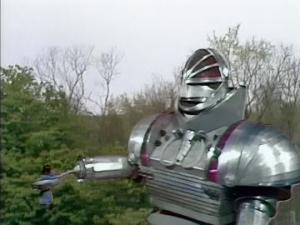 Broadcast: Saturday 8th August 1998
10:30pm-11:00pm EDT
(02:30 GMT)
<
>
«
»
WQED
Featuring: Tom Baker, Nicholas Courtney, Ian Marter, Elisabeth Sladen, Patricia Maynard
The Doctor races to avert a nuclear holocaust. The robot, distraught over killing its creator, takes Sarah hostage and goes on a rampage.
Synopsis Source: Doctor Who Guide
Broadcast Source: TWIDW
Report from the This Week in Doctor Who Archive:
Friday 7th August 1998:
WQED/WQEX 13/16 in Pittsburgh, Pennsylvania
continues to follow the Whosaver Master Plan this week with episode 4 of
Robot
Saturday night at 10:30PM
. His plan - use a special mini- pledge drive around each episode at the moment to raise the money to afford the series and keep it from being dumped. Offer long lost merchandise not commonly available during pledge drives. Show the infamous DeSilva introductions to remind viewers how the
Tom Baker
stories first arrived in the US two decades ago. By getting the money in
before
the episodes are ordered, Whosaver tries to prove that the fans actually want the shows. So far, the Whosaver Master Plan has resulted in the purchase of the first 8
Tom Baker
stories (32 episodes). And remember, Pittsburghians, that there's going to be a viewer's choice
Doctor Who
special
August 15 at 10PM
.