Last updated 02 January 2017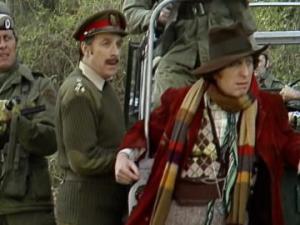 Broadcast: Saturday 1st August 1998
10:30pm-11:00pm EDT
(02:30 GMT)
<
>
«
»
WQED
Featuring: Tom Baker, Nicholas Courtney, Ian Marter, Elisabeth Sladen, Patricia Maynard
Sealed inside an underground bunker, Miss Winters issues her demands to the world's leaders, threatening a devastating nuclear strike if her demands are not met.
Synopsis Source: Doctor Who Guide
Broadcast Source: TWIDW
Report from the This Week in Doctor Who Archive:
Friday 31st July 1998:
WQED/WQEX 13/16 Pittsburgh, Pennsylvania
offers the 3rd episode of
Robot
Saturday night at 10:30PM
. Can Harry Sullivan prove himself to be a real James Bond? How high will Professor Kettlewell's hair stand when he discovers the real plans of the SRS? And what will Bessie do when she realizes that this story is her last appearance for nearly nine years? Find out on WQED. And, for a mere $112,000, you can purchase the entire series for WQED and get rid of the pledge drives! Go for it, Pittsburghians!!!
UPDATE! It has come to my attention that the money raised from the 1st 2 episodes of
Robot
was enough to purchase
The Pyramids Of Mars
, bringing the total number of regular stories purchased to 8 and the number of episodes to 32. Maybe this nickel and dime approach to
Doctor Who
will work after all! And I now have more information on the viewers' choice special scheduled for
August 15
. The top contenders being considered to run on that night are, in series chronological order,
Carinval Of Monsters
,
Genesis of the Daleks
,
The Deadly Assassin
,
The Face of Evil
,
The Talons of Weng-Chiang
,
Logopolis
,
Enlightenment
, and
The Curse of Fenric
. The top choice will air August 15 at 10PM.