Last updated 02 January 2017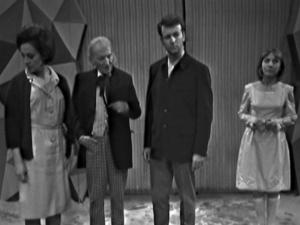 Broadcast: Saturday 14th August 1999
7:30am-8:00am EDT
(11:30 GMT)
«
»
SPACE
Featuring: William Hartnell, Jacqueline Hill, Maureen O'Brien, William Russell, Peter Craze
Exploring a museum on the planet Xeros, the travellers discover they are invisible. The Doctor deduces that the TARDIS has jumped a time track and can see their own future.
Cliffhanger: having temporarily been frozen in time, the travellers discover their exhibits have vanished, and the Doctor realises that they have caught up with themselves in time ...
Synopsis Source: Doctor Who Guide
Broadcast Source: TWIDW
Report from the This Week in Doctor Who Archive:
Friday 13th August 1999:
SPACE: The Imagination Station
http://www.hwcn.org/~an933/spacedw.htm and
http://www.spacecast.com/
Sat-Tue 7:30AM EDT The Space Museum eps 1 - 4 of 4 (The Space Museum, The Dimensions Of Time, The Search, The Final Phase)
Wed-Fri 7:30AM EDT The Chase eps 1 - 3 of 6 (The Executioners, The Death Of Time, Flight Through Eternity)
The mysteries of time get explored in this week's episodes. In
Space Museum
, the time travelers get a glimpse of a future where they are doomed to die. Can they prevent it? Are they supposed to? Later in the week, the Doctor learns from the past that the Daleks plan to exterminate him in the future, which is rapidly approaching the present. Daleks with time travel. Oh dear.