Last updated 02 January 2017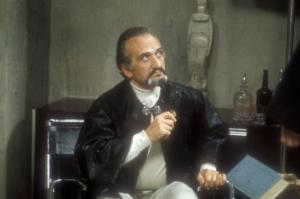 Visit Broadcast Link
Broadcast: Friday 2nd May 2014
7:50pm-8:25pm BST
(18:50 GMT)
<
>
«
»
Horror Channel
(adverts during broadcast)
Featuring: Jon Pertwee, Katy Manning, Roger Delgado, Clive Morton, Edwin Richfield
Classic British sci-fi adventure starring Jon Pertwee. The Doctor pays the Master a visit in an island prison around which a number of ships have mysteriously sunk. Part 1/6.
Synopsis Source: Horror Channel
---
Broadcast notes:
Intro: "The Lord of all Time Lords pays the Master a visit on a penal settlement island now here on Horror, a place where maritime disasters happen. Jon Pertwee stars in episode one of Doctor Who: The Sea Devils."

The ad break occurs as the Master asks Trenchard for another, colour television set for the bedroom ...
Broadcast Source: Horror Channel