Last updated 02 January 2017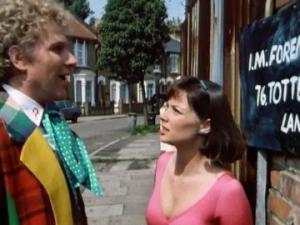 Visit Broadcast Link
Broadcast: Sunday 20th April 2014
2:30pm-3:05pm BST
(13:30 GMT)
<
>
«
»

<
>
«
»
Horror Channel
(adverts during broadcast)
Featuring: Colin Baker, Nicola Bryant, David Banks, Maurice Colbourne, Brian Glover, Michael Kilgarriff
Classic British sci-fi adventure starring Colin Baker. The Doctor encounters an old enemy in London's sewers before discovering the man is in cahoots with an even more powerful adversary. Part 1/4
Synopsis Source: Horror Channel
---
Broadcast notes:
Intro: "Here on Horror we've been time-travelling with the Doctor in a weekend-long Who on Horror marathon, and there's still two more classic and complete storylines to come. Next up sees the sixth Doctor Colin Baker take on the dreaded Cybermen in a memorable storyline where the TARDIS is witnessed changing shape for the first time on screen after the Doctor manages to temporarily repair the chameleon circuit. So it's London, 1985, and the Cybermen are set to change history by sending Halley's comet crashing into Earth in order to save their own planet. If you fancy chatting to the community on Twitter use the hashtag #WhoOnHorror. In the meantime, this is Attack of the Cybermen."

The ad break occurs as Peri reflects on Halley's comet being seen on Earth as a precursor to impending disaster, the Doctor retorts that's nonsense and she responds "not when we're that close to it!"...

In this edit the cliffhanger is created as Peri clambers through the hatchway leading to the sewers as she follows the Doctor...
Broadcast Source: Horror Channel